Birthday
c. 1998 (age 12)
Transfiguration
{{{Transfiguration}}}
Significant Spells
{{{Significant Spells}}}
Significant Kills
{{{Significant Kills}}}
Cause of Death
{{{Cause of Death}}}
Killed By
{{{Killed By}}}
Dana Monohan is the daughter of Nick and Sarah Monohan, and the sister of Charlie Monohan. Her best friend is Emily Radcliff. She was very excited when she learned that she was moving to The Gates. She is a very smart young girl who is focused on her goals. She is very close to her family, especially her brother Charlie and often teases him for not having a girlfriend. She attended the Father/Daughter Dance and danced the night away with Emily. She and Emily like to go around the shops and eat ice cream. She invited Emily for a sleepover. She is the first one to notice that something is not quite right with Charlie after his comma and alerts her family.
Personality
Edit
Dana is an intelligent young girl. She isver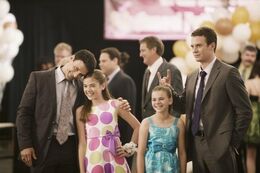 y caring for her family and friends. She loves reading, especially if it will provide her with new knowledge.
Appearance
Edit
Dana is twelve years old and is in the seventh grade. She is 5'4" and naturally slim. She is light-skinned with caramel brown hair and light brown eyes. She likes to switch her hairstyles, sometimes straight or with braids.