Devil's Weed on The Gates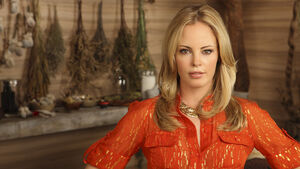 Devil's Weed is an ingrediant in the magical remedy Andie Bates is taking to control her succubus nature (and rash). It was given to her by her friend Mia Mueller who stole it from Devon.

Effects of Devil's Weed
Peg Mueller discovered that Devon was growing the forbidden dark herb and demands she get rid of it in Dog Eat Dog. Peg tells her: "It's used for the darkest of dark magic."
Devon tells Mia that she uses Devil's Weed to help strengthen her customer's immune systems.
Ad blocker interference detected!
Wikia is a free-to-use site that makes money from advertising. We have a modified experience for viewers using ad blockers

Wikia is not accessible if you've made further modifications. Remove the custom ad blocker rule(s) and the page will load as expected.